EAGLES acquire RB Lorenzo Booker from Miami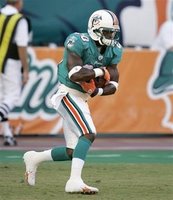 With the San Diego Chargers on the clock with the 27th overall pick, the Eagles acquired running back Lorenzo Booker from the Miami Dolphins for a fourth-round pick, No. 115 overall.
In seven games for the offensively-challenged Dolphins, Booker (5-10, 191) rushed for 125 yards (4.5 ypr.) and caught 28 passes for 137 yards (8.5 ypc.).

"I understand the game," Booker said. "Being traded is not always a bad thing especially when you're going to a good situation."
Follow @BobGrotz