Jackson NFC special teams POW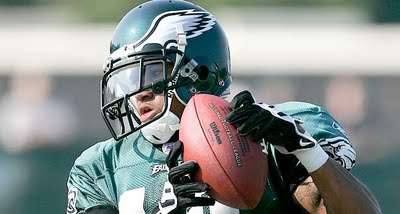 DeSean Jackson will be named NFC special teams player of the week for that stunning season-opening performance leaving everyone in the dust, including the people who had to page through the record book.
Jackson (pictured) burst untouched through 11 Carolina Panthers Sunday, including the punter, on an 85-yard punt return that ranks second in Eagles history. Only Vai Sikahema has run one back further, his 87-yarder in 1992 helping the Eagles beat the Giants.
That piece of art and a 21-yard run earned him NFC special teams player of the week.
Jackson also had two rushes for 33 yards, one a 25-yard reverse. He caught two passes for nine yards.
Follow @BobGrotz