Kolb starts for McNabb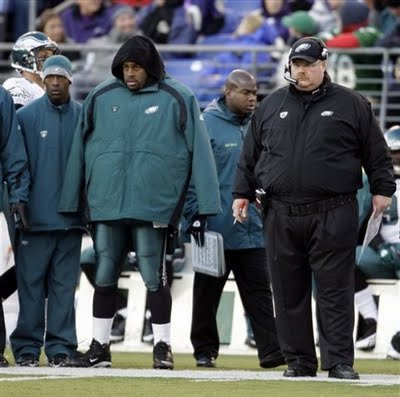 The Eagles made it official at 11:28 a.m.
Veteran Donovan McNabb is scratched due to a cracked rib. Kevin Kolb will make his starting debut at quarterback against the New Orleans Saints.
Max Jean-Gilles started at right guard instead of Stacy Andrews, one of the Eagles' touted acquisitions in free agency, and Victor Abiamiri (groin) started at left defensive end where Juqua Parker got the start last week.
The Eagles also scratched wide receiver Reggie Brown, quarterback Michael Vick, safety Quintin Demps (hamstring), linebacker Joe Mays (shoulder), wide receiver Brandon Gibson, and offensive linemen Todd Herremans (foot) and Mike McGlynn.
Follow @BobGrotz