Eagles auditioning kickers this week?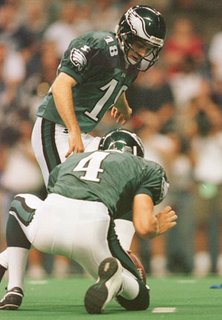 The latest information I have is Eagles kicker David Akers is safe despite his 40-plus yard field goal slump. Hey, Akers kicked three of his four field goals (all less than 40 yards) in the fourth quarter Sunday to help lead the team to a 40-26 win over the Niners. The 54-yarder that was blocked and returned for a TD wasn't his problem.
The latest NFL Network speculation of Mike Lombardi (who worked for the Eagles in the mid-1990's) is the Eagles will bring in kickers for a tryout this week.
(Think Chris Boniol, above and left, would give it another shot if the Eagles guaranteed him Tommy Hutton would be his holder? Me either
.
)

A tryout wouldn't be a shocker; the Birds work out players almost every week. Replacing Akers at this stage of the season would be a huge mistake, though. All the Eagles must do to shake him out of this slump is NOT - repeat, NOT - let him crank one up from 50 or more yards. Forty-nine is OK; 50 is NOT. Case closed until at least next season.
Follow @BobGrotz