Andy Reid can't predict Shawn Andrews will play in regular season opener ... Herremans hurts ankle ... DeSean Jackson back at practice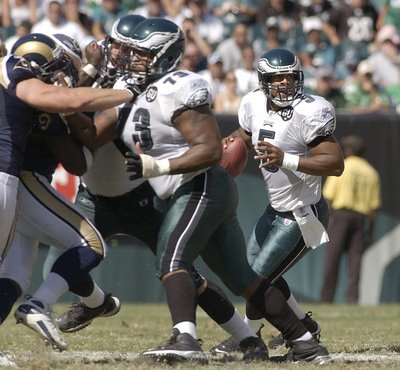 Head coach Andy Reid took aim Sunday at right offensive tackle Shawn Andrews, who hasn't participated in a play or a drill at training camp after injuring his back bending over during the fitness run before the first full team practice.
Though Reid said Andrews (above center) was "making progress" in his rehab to get back on the field, he yanked on the reins and echoed a figurative "whoa" when asked if he was counting on the converted guard being in the starting lineup on opening day.
"I don't know that," Reid said. "Until he's out here I can't predict that."
Reid hasn't ruled out a return by right offensive tackle Jon Runyan, the unrestricted free agent coming off microfracture knee surgery. Reid said he spoke to Runyan at the Jim Johnson memorial ceremony and has kept abreast of the veteran's rehab.
Reid has a soft spot for Runyan, whom he called "the best right tackle in football bar none" after signing him in 2000. Runyan could know if he's ready to run early this week as he's scheduled to have the knee examined.
Elsewhere guard Todd Herremans sat out the Sunday practice with a sore ankle. DeSean Jackson also was idle for the morning practice with a mild, hyper-extendeded sore knee but he got back on the field for the afternoon session, the right knee taped.
Middle linebacker Stewart Bradley will have his torn ACL repaired Aug. 11. Tight end Cornelius Ingram will see another doctor before scheduling his ACL surgery.
Follow @BobGrotz