Torn ACL shelves Bradley for '09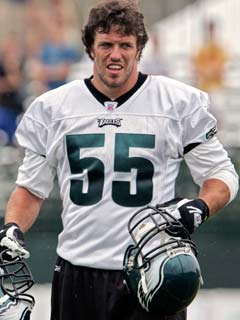 UPDATE: Reid tells WIP 610 radio Tuesday morning thaty Bradley is out for the year.
Eagles head coach Andy Reid wouldn't confirm it, but his players did.
Middle linebacker Stewart Bradley sustained a Correll Buckhalter-type torn ACL during the inaugural Eagles Flight Night! and is not expected back this season.
One simple cut - the kind Bradley has made almost countless times - and the ligament snapped. The same thing happened to Buckhalter during the 2002 minicamp season.
Veteran Omar Gaither is the immediate replacement in the middle, as he's played the position before. But his skills set is better suited to the outside.
Joe Mays (5-11, 246), who played sparingly as a sixth-round pick last year, praticed there Monday. He has size limitations.
Tank Daniels (6-3, 246) might be a better fit than anyone on the roster as he has size and quickness similar, if a cut below Bradley (6-4, 255).
Follow @BobGrotz