Zordich coaching secondary; Maclin could sign before rookies practice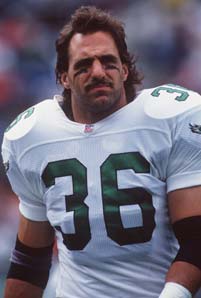 Andy Reid has hired Penn State product Michael Zordich to coach the secondary along with Brian Stewart, who also is assisting Sean McDermott.
Zordich replaces Otis Smith, the former Eagle and Patriot who left the Birds shortly after Phillips arrived.
Zordich helped lead the Ray Rhodes Eagles to the playoffs in 1995-96, as he was a starting safety. He brings a wealth of experience and leadership to a secondary trying to replace veteran Pro Bowler Brian Dawkins.
Also, the Eagles feel they have a decent shot of signing first round pick Jeremy Maclin, the wide receiver out of Missouri, before the rookies open training camp Monday at Lehigh University. Just two first round draft choices had signed as of noon Saturday.
Maclin, represented by Jim Steiner, is the only Eagles draft pick who hasn't signed.
Follow @BobGrotz