THURSDAY: Bradley back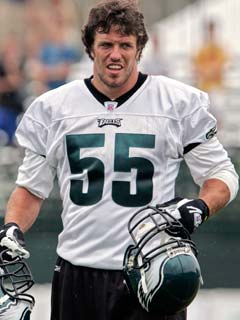 Precautionary or not, it's never a good thing when a starter like Eagles middle linebacker Stewart Bradley is held out of practice with a strained hamstring.
Bradley rarely misses a snap, having played through various injuries in an Eagles career that began in 2007.
So the Eagles were glad to see him get back on the field after he got banged up in the Wednesday OTA.
Also, Camden, N.J. product Rashad Baker, the safety by way of the Oakland Raiders, has looked a lot like the guy he's replacing - Sean Considine.
Baker had another interception Thursday. Like Considine in the past, Baker seems to get one or two each and every practice.
Follow @BobGrotz