Eagles sign ILB Wilhelm ... Maclin arrives ... Abiamiri's NFC title game 'gift' is a fumble this year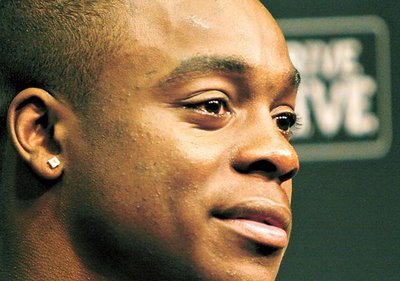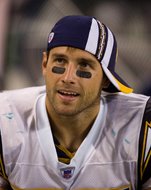 With middle linebacker Stewart Bradley out for the season, the Eagles jumped on the chance to sign Matt Wilhelm, cut recently by the San Diego Chargers.
Wilhelm (right) signed a one-year contract according to the San Diego Union Tribune.
Wilhelm (6-4, 245) started seven of 16 games at inside linebacker last season and notched 51 tackles and an interception. He played six seasons with the Chargers.
Scouting reports suggest Wilhelm isn't an every-down player like Bradley, who tore the ACL in his right knee at Eagles Flight Night. Wilhelm isn't as fast or athletic as Bradley and has a checkered injury history. Wilhelm may be best utilized on early downs.
Also, Eagles top draft pick Jeremy Maclin (top) arrived at camp although he didn't participate in either practice.
Offensive coordinator Marty Mornhinweg said Maclin has missed half of the play installation and that the Eagles will try to "expedite" the assimilation of Maclin into the offense.
What Mornhinweg wants to see more than anything is whether Maclin can get off press coverage consistently when lined up outside. In college he ran a lot of inside routes in a spread offense against smaller defenders.
NFL official Scott Green confirmed that Victor Abiamiri's muffed kickoff at the 27-yard line of the Eagles late in the first half in the NFC championship game is reviewable under the new rules and that the Cardinals would have gotten possession of the ball.
This year change of possessions plays previously whistled dead and non-reviewable are reviewable. The Cardinals were unable to appeal the kickoff Abiamiri clearly showed touched inbounds before rolling out of bounds.
At the time of the Eagles trailed, 21-6, with three minutes remaining in the first half.
Follow @BobGrotz