Kolb is MVP of early training camp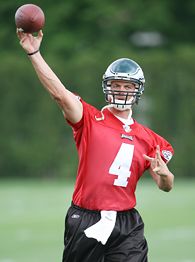 The first few days of training camp are easier said than done.

That said, the most impressive performer among rookies and select veterans at insect-populated Lehigh U. is second-year quarterback Kevin Kolb.

And it isn't close.

It's not a question of if the guy is ready to take the next step but when he will take it.

You can see the killer mentality in the footwork, th throws and his remarkable ability to correct mistakes. You never see him mess up the same play twice.

Even Andy Reid agrees.

"I think he's well ahead of where he was last year," Reid said. "He's worked very hard at that. He basically spent the whole offseason (in Philadelphia) going over film and techniques and all of those things. And the actual reps he got during the minicamps I think were important. And he's tough on himself. He's a coaches kid. Hes been raised where he expects perfection from himself. Last year he was swimming. This year he expects a lot of himself as do the players and the coaches around him."

Of course, Donovan McNabb still is the man. And he's looked good, bad and ugly at times in this early phase of camp although in all fairness, he's basically only warming his arm up.

Then again, if McNabb doesn't stay healthy he could find himself watching the game on the sideline with A.J. Feeley.

Forget all that spin about Kolb battling Feeley for the No. 2 job. It's Kolb who's one play away from being the Eagles quarterback.
Follow @BobGrotz