JOE KLECKO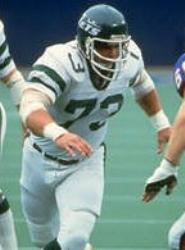 Joe Klecko, the father of Eagles DT Dan Klecko, and his son Josh had a pretty good time attending the Wednesday morning practice of Eagles training camp.
It was difficult but not impossible for Klecko, the All-Pro New York Jets defensive tackle from 1977-87 to figure out how Dan will fit into the Eagles' scheme.



"This isn't the venue to see who can do what," Klecko said at camp. "I couldn't see half the time. But Danny's ability to rush the passer that I've sensed since Day 1 is his forte. Danny knows how to get after the passer. He's very disruptive and Jim Johnson's defense helps pass rushers create havoc."
Klecko knows about pass rushing.
(Klecko, sportsencyclopedia.com)
With 77 1-2 career sacks, he trails only Mark Gastineau on the all-time Jets list
Klecko, who starred at St. James High and Temple, also is in great shape. He almost looked like he could put the pads on again.
"No, I'm retired," he said. "I don't want to play."
Follow @BobGrotz