$72 million hasn't fazed local product Matt Ryan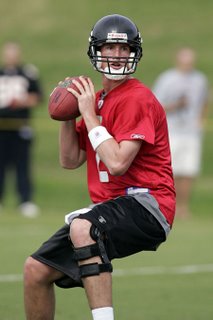 It can be a little intimidating physically to meet someone as large as Matt Ryan, the 6-4, 220-pound quarterback of the Atlanta Falcons.
The man engulfs Joe Plumber.
But the product of Penn Charter High and Exton quickly puts you at ease in an almost fatherly way belying his age - 23 years old and counting.
When Ryan attended the Philadelphia Sportswriters Association dinner this past spring to collect an award, he made the time to speak to everyone - including this writer soliciting celebrity picks for the Super Bowl.
Ryan chose the Patriots, not the Giants, and he would have been right had Pats quarterback Tom Brady (torn ankle ligaments) been right.
Explaining the pick, Ryan sounded more like a coach than the guy that would be the third overall selection in the draft. And it's safe to say he's played beyond his years in leading the Falcons to a 4-2 start.
Ryan signed the richest NFL rookie contract ever - a $72 million, six-year pact including $34.75 million guaranteed. It hasn't changed him. The way Ryan has tackled the immense challenge of living up to the deal, it's safe to say that won't change either.
Follow @BobGrotz