Birds need Lito more than ever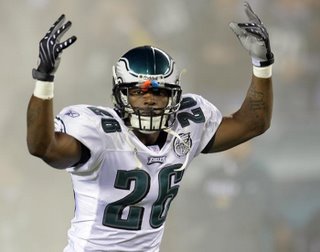 Can't live with him, can't live without him.

T
hat sums up the Eagles relationship with cornerback Lito Sheppard.
Unhappy getting kicked out of the starting lineup and steaming from
a
ccusations he's fragile, Sheppard has tested the patience of the Eagles much of the
season. And he's at it again.
S
heppard's exit Sunday after straining his groin in the first quarter against
the Seahawks is a real concern as it eliminated use of the dime package the rest
of the afternoon.
With the Giants on deck – and for all practical purposes a playoff berth at
stake - the Eagles need Sheppard more than ever.

Without him they would be at a
tactical disadvantage matching up with Plaxico Burress in multiple receiver sets
and simultaneously defending Eli Manning's handoffs to 260-pound power back
Brandon Jacobs, which are hazardous to the health of nickel alignments.

Follow @BobGrotz