This Eagle still worth the price of admission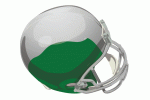 If they didn't know better, some of the Eagles staffers who became acquainted Thursday with alum Al Wistert, the Eagle offensive tackle from 1943-51, would think he was closer to age 67 than 87.
Wistert was that impressive during the visit.
"Sharp as a tack," 71-year-old director of ticket client services Leo Carlin said. "And, no, I wasn't selling tickets when he played."
The teams Wistert played on had enough success to make the day of modern day ticket agents and marketers.
During Wistert's tour the Eagles produced a 63-34-4 (.643) record with back-to-back NFL championships in 1948-49.
It doesn't get much better than that.
"He's a champion," Eagles director of football media relations Derek Boyko said.
Enough said.
(Above: the Eagles helmet Wistert wore in 1948-49)
Follow @BobGrotz