Watch the other kicker today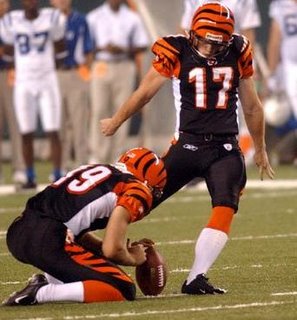 Eagles opponents have made a staggering 27 straight field goals, including 16 this season.
Four kicks are from 50-plus yards, including a 55-yarder and this year two 53-yard boots.
That success magnifies David Akers' struggles from 40-yards and out. Including the 2000 season Akers is 3-for-7 in attempts from 40 to 49 yards, and 5-for-17 from 40 and out.
(L-Bengals K Shayne Graham is 9-for-10 in field goals from 40 yards and beyond this year)
Follow @BobGrotz