Kolb has sprained MCL; camp intern Nagy is replacement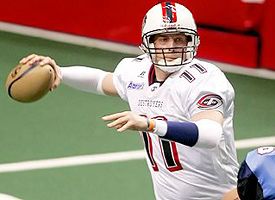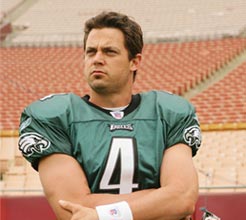 The injury bug hit the Eagles again Monday morning as backup quarterback Kevin Kolb sustained what an MRI revealed to be a sprained medial collateral ligament of the left knee.
Kolb won't play in the preseason opener Thursday against the New England Patriots and will be listed day-to-day after that according to the Eagles.
Kolb (left) hurt the knee stepping on the foot of offensive tackle King Dunlap in the pocket. There were fears he had torn an ACL.
The Eagles have tabbed Matt Nagy (right), the University of Delaware product who played professionally for the Columbus Destroyers, as the temporary backup quarterback while Kolb is idle according to Adam Schefter of ESPN. A camp coaching intern, Nagy has been throwing balls to rehabbing Birds running back Brian Westbrook. He attended Pennsylvania's Manheim Central.
Also carted off the field was defensive end Trent Cole, who suffered a sprained AC joint in his left shoulder injury. Cole laughed and raised his left arm several times to show reporters he was OK on his way to lunch. The Eagles ruled him out of the preseason opener and will list him as day to day beyond that.
Also in practice, cornerback Sheldon Brown got the wind knocked out of him although he was able to stay on the job in the 90-plus degree heat.
All of those injuries happened in a 10-minute span.
In barely a week the Eagles lost starting middle linebacker Stewart Bradley and rookie tight end Cornelius Ingram to season-ending torn ACL's.
The good news Monday was guard Todd Herremans (swollen ankle) returned to work and wide receiver DeSean Jackson (hyper extended knee) continued to work back into practice.
Follow @BobGrotz