Andy crushes rookie head coaches
Something to keep in mind when Andy Reid takes on the Buccaneers this weekend - and for all practical purposes the Raiders in two weeks.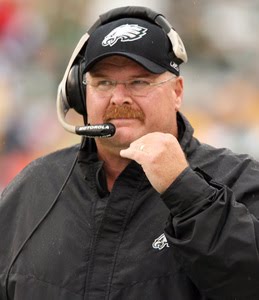 Reid is 17-6 (.739) against rookie head coaches. That includes an almost flawless 11-2 (.846) mark in South Philly which is where rookie coach Raheem Morris brings his Bucs this weekend.
The last rookie schooled by Reid (pictured) was Todd Haley, whose Chiefs suffered a 34-14 defeat at the Linc which was much worse than the math.
Obviously a lot of rookie head coaches step into rebuilding situations. Basically that means a lot of bad teams.The Bucs and the Chiefs are a combined 0-8.
That said, Reid enjoys beating them up and then praising them for the privilege of allowing him to do so.
Next week the Eagles could find themselves taking on an interim head coach because Raiders coach Tom Cable could be suspended for reportedly slugging an assistant. The Raiders are 1-3.
Follow @BobGrotz