Update: NFL says no to Nagy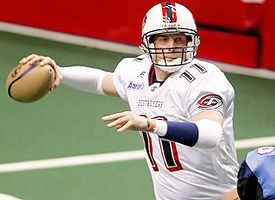 The terse statement from the Eagles came out of nowhere.
Matt Nagy, the former Arena Football League quarterback who traded his coaching intern whistle for a pair of cleats and a helmet, won't be allowed to play any more quarterback for the Eagles.
"Matt Nagy's contract was disapproved by the NFL and he will not be re-signed," the statement read. "The team will look in another direction at the quarterback position."
Nagy, 31, practiced for the first time as an NFL player Tuesday and on Thursday was scheduled to play in the preseason opener against the Patriots at the Linc.
Backup quarterback Kevin Kolb's sprained MCL in his left knee Monday opened the door.
But the league stepped in suddenly and now the Eagles have offered a contract to Adam DiMichele, the Temple University product.
Follow @BobGrotz