Gaither keeps swinging
For the third time in three years the Eagles have taken Omar Gaither's starting job.
Jeremiah Trotter likely will be the middle linebacker on first and second downs, Gaither (pictured) the man in passing situations.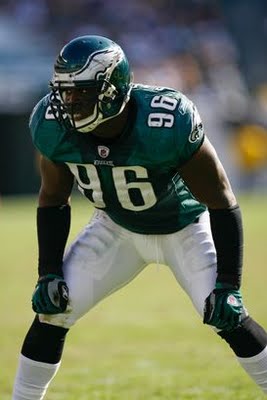 "Do I think I could have done the job? Yes," Gaither said. "But they brought him in and there's nothing I can do about that now. Obviously there's a lot of things that happened to me here that I have no control over. But I just keep rolling with the punches."
Andy Reid isn't sure how much football Trotter has left after basically two years away from football. And he talked about spotting Trotter to make maximum use of his size and skills sets.
At this point the Eagles want Trotter - who weighs 20 pounds more than Gaither - to penetrate the backfield and take on blockers including fullbacks.
Follow @BobGrotz