Offensive coordinator: Donovan played very smart Monday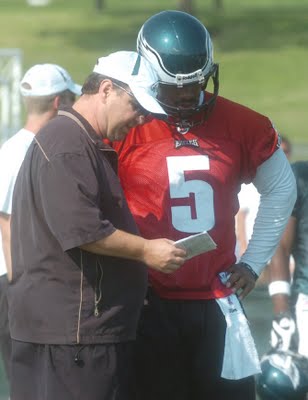 Donovan McNabb didn't make excuses for his second straight substandard game.
But in so many words, Eagles offensive coordinator Marty Mornhinweg (pictured with McNabb) did just that Thursday.
Mornhinweg said McNabb "played very smart" in the second half of the 27-17 win over the Redskins, even if it wasn't reflected in the stats.
McNabb completed just five of his last 11 passes for 38 yards after connecting with DeSean Jackson for a 57-yard touchdown.
"Three or four of those were throwaways," Mornhinweg said. "The only way (the Redskins) were going to win was if we made mistakes. They needed two or three of them. Donovan played very, very smart."
Follow @BobGrotz