Reggie Brown's breakfast interrupts Vick
Winning cures everything, with one exception - flatulence.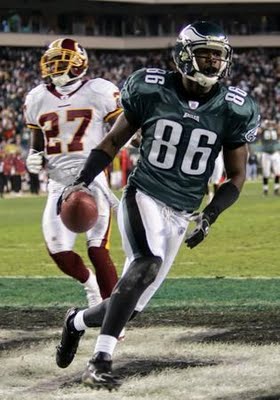 To give you an idea of how loose the Eagles are, Michael Vick was in front of his locker Wednesday telling the media there would have been a quarterback controversy had he wound up in Oakland when a teammate passed by - and passed something else. The noise was so loud Vick began laughing.
"We've got to find the culprit," Vick said.
It was Reggie Brown (pictured in a more stable moment).
Walking the hall moments later with a grin on his face, Brown was asked if he felt OK.
"Man," he said. "I don't know."
Hey, life is good for the Eagles, who are off to their third 3-1 start with Andy Reid.
The Eagles are favored by 14 points against the Oakland Raiders (1-4), whom they oppose Sunday at Oakland-Alameda County Coliseum.
Follow @BobGrotz