Herremans doesn't want to rotate
Left guard Todd Herremans, out nine weeks with a stress fracture, thinks he can be back in the lineup when the Eagles play the Redskins in two weeks at FedEx Field.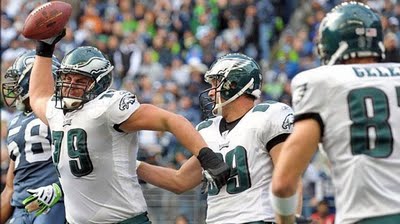 But the veteran really doesn't want to be start of a rotation at the position he's ruled the past three seasons. Nick Cole has played left guard and Max Jean-Gilles and Stacy Andrews have manned right guard.

"I would hope not," Herremans said. "I don't think I'd really like to play in a rotation. But it's not my decision. I would prefer not to."
Herremans (pictured in spike form) said that while the foot feels fine he's had an issue with the accompanying ankle.
"It feels a little tired," he said.
Follow @BobGrotz