McNabb's national gaffe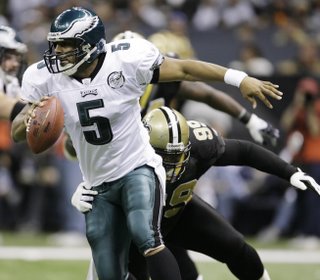 This mistake will haunt Donovan McNabb just as the conflict with Terrell Owens has.
This gaffe is another indication - as is the apparent unwillingness of the Eagles to restructure his contract - he has one foot out the door.
One of the Eagles' veterans, Sheldon Brown, was surprised after the 13-13 tie with the Bengals Sunday that so many teammates didn't know the regular season overtime rule; i.e. sudden death for 15 minutes, with no scoring producing a tie.
Brown cut them a break, though, explaining a lot of them weren't in the league seven years as he was.
Then there was the clip of McNabb, the 10-year veteran, on almost every newscast saying he was unaware of the rule and that he thought teams played until a winner was decided as in the playoffs.
It's more mind-boggling today than it was when it happened and it's a reflection of his inattention to detail as well as the inattention of the coaching staff.
Follow @BobGrotz