Jim Johnson's limp ...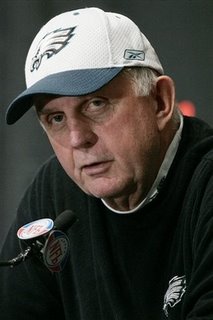 They say it's the back that hurts Eagles defensive coordinator Jim Johnson, and hopefully that's all it is.
Johnson is such a private guy he kept the details to himself after parking his cane for his news conference Thursday.
Colleagues won't shed any light on his health either.
When the Eagles play the Cardinals Sunday for the right to go to the Super Bowl, for the second straight game Johnson likely will be up in the coaches box instead of on the field where he normally resides.
Follow @BobGrotz