Andy says the Giants are ...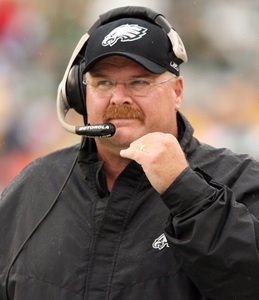 ... A good team and that the Eagles look forward to the challenge of playing them.
"It's a great challenge, a heck of a rivalry and it should be a great football game," Reid said Wednesday of the Eagles-Giants divisional playoff this weekend at Giants Stadium.
Held out of practice Wednesday: Offensive tackle Jon Runyan (knee), running back Brian Westbrook (knee) and fullback Dan Klecko (shoulder).
L.J. Smith (shoulder) will work back in as the backup tight end.
Reid hasn't ruled Klecko out of the game but said Kyle Eckel would work in at fullback.
The Eagles put guard Mike McGlynn (torn hamstring) on injured reserve. Reid said Winston Justice, the backup right tackle, would be the first sub at guard.
Guard Shawn Andrews, sidelined since hurting his lower back in the second game, willl work back in during practice.
"He's been cleared to participate but I'm not just going to throw him out there," Reid said. "He's got to take it one step at a time."
As for the often tricky wind at the Meadowlands, which was a factor the last time the teams met, Reid expressed a preference.
"I would like it just to blow in the direction I would like it to blow," he said.
Follow @BobGrotz