Andrews can lift teammates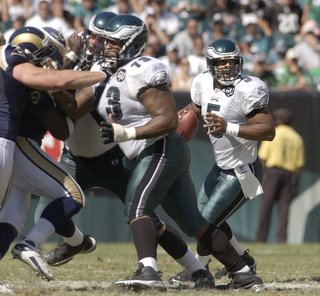 The Eagles won't put Pro Bowl guard Shawn Andrews on injured reserve, ending his season, until they take a look at him in a practice setting.
That should come this week, barring any setbacks for Andrews, who had lower back surgery in early October.
(Andrews, left, would earn immense respect from his teammates by getting back on the field this season)
Andy Reid hinted Saturday that Andrews was feeling better and poised to give the back a test.
If Andrews is anywhere close to 100 percent he would provide a spark just getting back on the field. There's nothing like a fallen teammate rushing back into battle to get the juices boiling.
Donovan McNabb, you may recall, removed any doubt about his toughness returning from a sprained MCL to play the last game of his rookie season.
Andrews can do the same thing.
Follow @BobGrotz