Scratch Reggie Brown ...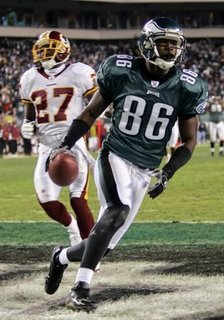 The Eagles didn't have enough room in the offense for wide receiver Reggie Brown, who was scratched Sunday along with running back Correll Buckhalter (sprained MCL), and the usual suspects.
Brown's future is all but on firm foundation as well. Clearly rookie DeSean Jackson and veteran Kevin Curtis are the starters. That leaves Brown, a starter since his rookie season, battling for third and fourth team snaps with Jason Avant, Hank Baskett and Greg Lewis, who appear much more comfortable with the bit roles.
Avant easily is the Birds' best slot receiver. The 6-4 Baskett has carved out a niche as the red zone fade pattern receiver.
Follow @BobGrotz