Westbrook misses another practice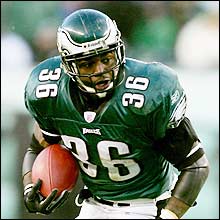 Brian Westbrook sat out another practice Thursday to rest the high ankle sprain and cracked ribs plaguing him for the last month.
Not that the Eagles need him to establish the run game this weekend against the Ravens. Conservatively speaking the Eagles throw the ball 60.6 percent of the time.
The Ravens have a top-notch run defense anchored by 6-4, 340-pound tackle Halot Ngata and middle linebacker Ray Lewis.
Follow @BobGrotz