Good morning SHAWN!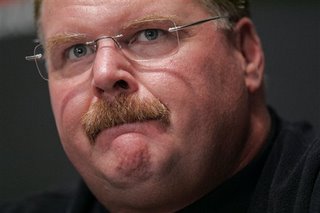 While the Eagles worked out the stiffness of a three-day weekend during their Monday practice, Pro Bowl guard Shawn Andrews was rehabbing his lower back at the NovaCare Complex.
Andrews spent six weeks in Marina del Rey, Calif., recovering from a surgery he said lasted 2 1-2 hours – about an hour longer than scheduled.
"Why did I have to stay? That's what Dr. (Robert) Watkins recommended," Andrews said referencing the surgeon. "There were just some things he saw in the X-rays and the MRI's and kind of the way I told him I felt and he decided to keep me. Each time I had made arrangements to come back and he was like, well I need you to stay."
Andrews' weight dropped to 312 pounds during the stay but is back up around 320. He danced around questions about his return this year, although quietly there's a possibility assuming his rehab progresses and the Eagles have something to play for; i.e. the playoffs.
"Well you can hope all you want and I do hope," Andrews said. "I don't know what the possibilities are. So I'm back here and working with (trainer Rick Burkholder) and the guys now. So now it's a matter of getting to that point now where I can push and pull and take some people out."
Andrews' replacement, Max Jean-Gilles, is out for the season after surgery for a fractured ankle.
For now, Nick Cole is the right guard and veteran right offensive tackle Jon Runyan doesn't see Andrews returning any time soon.
"Getting him back? We'll see," Runyan said. "He just got off of doing rehab and out of town and hasn't played football for what, 2 1-2 months?"
Follow @BobGrotz