Eagles don't need a quarterback controversy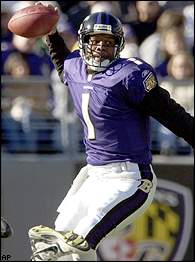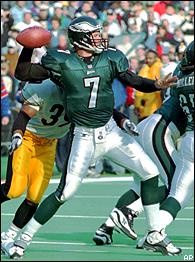 Andy Reid has made his share of mistakes with the Eagles starting with the choice of veteran Doug Pederson as his first quarterback.
But one thing Reid has skillfully avoided since getting Pederson off the field and playing his first-ever draft pick, Donovan McNabb, is a quarterback controversy.
Quarterback controversies are the worst.
Remember the twilight of Randall Cunningham's career with the Eagles? After he was benched in 1994 and later sent on his way, Ty Detmer, Rodney Peete and Bobby Hoying all played musical chairs at the position.

The Eagles made two playoff appearances in that ugly oft-debated and predictably dull six-year period. It was brutal.
Quarterback controversies tear teams apart more than contract disputes, more than disciplinary benching, more than major injuries.
The last thing the Eagles need is a controversy which is exactly what Reid is stoking if he puts Donovan McNabb back in the starting lineup after benching him in favor of backup Kevin Kolb this past Sunday.
There's no reason – none – to believe McNabb will get any better any time soon. He is what he is. On Tuesday that would be an aging 32-year-old quarterback who no longer can carry a team by himself.
Kolb, on the other hand, quietly has shown the coaches and front office that he's suited to making the quick reads and throws necessary to run the West Coast Offense.
Kolb is smart, he's tough and those qualities give him an aura in the huddle. Brian Westbrook says Kolb has it. And for those who think Kolb is every bit the interception machine McNabb has been, nothing could be further than the truth.
Kolb, unlike McNabb, rarely makes the same mistake twice. Those picks against the Ravens have been filed under 'don't.' You won't see those throws again.
Reid on the other hand would be making a big mistake, and probably his last mistake if he starts a quarterback controversy. In benching McNabb he realized it was time to turn the page. Putting the veteran back on the field would be saying the coach really doesn't know what he's doing.
McNabb isn't done just as Cunningham's career wasn't over when he left the Eagles. Cunningham later had an unbelievable season with the Minnesota Vikings that ended one missed field goal short of the Super Bowl. McNabb would surprise no one by following a similar script.
Follow @BobGrotz