Andy Reid: Running with the wind
(Below: Eagles running weather)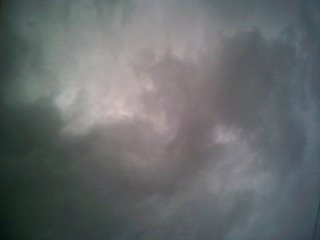 The way Andy Reid spun it Monday, his game plans are influenced as much by weather reports as what the Eagles strengths are.
Had Giants Stadium not been cold and windy, the head coach intimated the Eagles wouldn't have dialed up 41 runs against 31 passes.
We feel you, Andy. But please feel free to run if there's no wind and it's not quite so cold because
even if you don't want to acknowledge it that's obviously what gives you the best chance of winning these days.

For whatever reason, Andy Reid is afraid to admit his pass oriented game plans pretty much got the Eagles nowhere this season.
After winning back to back games almost purely with the ground game, his thing now is to divert attention from all of the silliness that made the Eagles 5-5-1. It's like he doesn't know that coach.
Someone has had a serious talk with Reid, just like he had a heart-to-heart with Donovan McNabb after benching the franchise quarterback.
Someone made Andy Reid realize moving the ball through the air looks sexy statistically but that if he really wants to win, he better run the ball effectively.
It doesn't matter if it was offensive coordinator Marty Mornhinweg or defensive coordinator Jim Johnson. Or, for that matter, club president Joe Banner or his right hand man, Howie Roseman, who a source said were outside the locker room Sunday slapping hands and trading celebratory gestures as if they were the coaches and players who won the game.
The reality is that as Andy Reid stands here today, the only reason his team is 7-5-1 and looking very much like a wild card contended in a disintegrating NFC East is the running game.
For four weeks Reid wasted the considerable talents of Brian Westbrook, who went without a touchdown in that stretch while his team went a miserable 1-2-1 that still could keep it out of the playoffs.
While Westbrook conceded he wasn't 100 percent in that stretch, he's no worse for the wear now. It's obvious in the six touchdowns he's scored in the last two games that he can be effective with aches and pains if the Eagles use him properly – whether rain, sleet, wind or gloom of light is in the forecast.
By the way, the overnight low for the next Eagles start against the Cleveland Browns Monday night is 36 degrees with a 40 percent chance of precipitation.
Let me save you the time, coach; that's Brian Westbrook weather.
Follow @BobGrotz