Dawkins, Samuel make Pro Bowl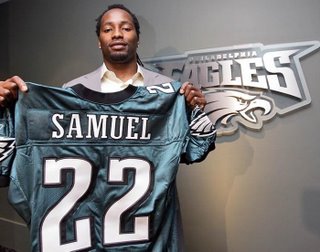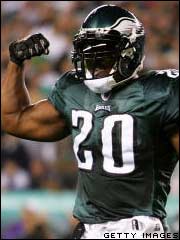 Eagles safety Brian Dawkins and cornerback Asante Samuel were named to the NFC Pro Bowl squad as reserves Tuesday.
Snubbed in the balloting among NFL players, coaches and fans were teammates Brian Westbrook and safety Quintin Mikell.
It's the seventh selection for Dawkins, 35, tying him for the club record for most appearances with the late Reggie White, and one short of the mark of Chuck "Concrete Charlie" Bednarik. White and Bednarik are in the Pro Football Hall of Fame.
Longevity may have played a role in the selection of Dawkins, tied for the all-time club lead with 34 interceptions. Dawkins has four forced fumbles this season but just one interception and only two picks in his last 26 regular season games.
Having played in a club-record 181 games, it's safe to say almost everyone who's played in the conference the past 13 years knows of Dawkins.
"It was a surprise to me," Dawkins said on a conference call. "I thought I had a chance, I didn't know how great a chance it was. This was a huge accomplishment, this is the seventh time around. Of all the things I've gone through these last couple of years this is a great, great blessing."
Samuel leads the Eagles with four interceptions, the last of which he returned 50 yards for a score in the 30-10 win over the Cleveland Browns Monday night. He could have four or five more but hasn't been able to find the handle on the ball.
"It definitely feels good," Samuel said. "It definitely shows I got the respect I finally deserve as a player. I think I'm playing pretty decent football even though I don't have 10 interceptions like I did before. I think I'm playing at a high level – as good as any of the corners in the NFL."
Follow @BobGrotz