Scratch Reggie; Koy Detmer in the house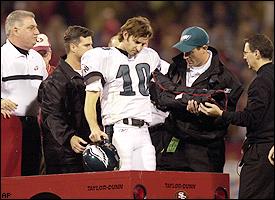 The Eagles scratched wide receiver Reggie Brown, running back Lorenzo Booker, tight end Matt Schobel, linebacker Joe Mays, defensive end Bryan Smith, and guards Shawn Andrews (back) and Chris Patrick.
Booker was down so the Eagles could keep running backs Correll Buckhalter and Kyle Eckel active.
It was the second straight deactivation for Brown, a starter since his 2005 rookie season.
Former Eagles backup quarterback Koy Detmer visited with teammates before their Monday night game against the Cleveland Browns. Even in a leather coat, Detmer couldn't help but play catch with some of the Birds. The throws were traditional dink-and-dunk WCO stuff.
Detmer dislocated his left elbow after throwing for 227 yards and two touchdowns in a 38-17 Monday night blowout of the San Francisco 49ers in 2002, the year Donovan McNabb broke a fibula.

The Browns deactivated guard Scott Young, a former fifth-round pick of the Eagles, along with tight end Kellen Winslow (ankle), running back Jerome Harrison, safety Hamza Abdullah, cornerback Travis Daniels, linebackers Kris Griffin and Beau Bell, and defensive end Santonio Thomas.
Follow @BobGrotz