McNabb vs. Romo for playoffs? Sweet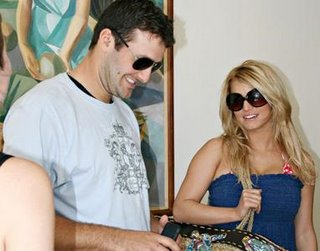 There's a pretty good chance Donovan McNabb and the Eagles will play Tony Romo and the Cowboys for a chance to reach the playoffs next week.
(Tony Romo's trip here next week might bring Jessica Simpson along with him.)
That would be a big game one of the two hard-luck quarterbacks would have to win, the Bengals syndrome notwithstanding.
Former Eagles assistant John Harbaugh did Andy Reid a favor when his Ravens beat Romo and the Cowboys, 33-24 Saturday. The Cowboys are 9-6.
If the Eagles (8-5-1) defeat the Redskins (7-7) today at FedEx Field they'll be playing for a playoff berth next week, although the Falcons (9-5) and Buccaneers (9-5) must lose one of their two games.
The Cowboys still can get in the playoffs if they beat the Eagles and the Falcons lose a game or the Bucs lose their last two games,
Follow @BobGrotz