Yo '5!' You sure no Giants were benched?
Donovan McNabb might try to block it out or dismiss it but it looks a lot like he will never totally get over his benching in the second half of the Eagles' loss to the Baltimore Ravens.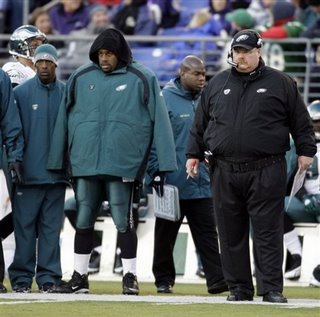 The trust between the quarterback and the Eagles never will be the same judging by McNabb's insistence on an end of season meeting with management to get answers about the benching and his future with the team.
(daylife.com photo)
McNabb tried to blow off the benching during his Wednesday presser, calling the Eagles' 5-1 record including a playoff success since getting yanked "coincidental."
Asked about the Giants' defense, which hasn't had to play well the last quarter of the season, McNabb surmised "I don't think it's personnel. You know, just sometimes, I guess during the course of the year you don't play as well as you did early on. None of them got benched."
If McNabb had checked, he would discover that the Giants made a couple of starting lineup changes defensively. Kenny Phillips replaced James Butler at safety and Corey Webster took over at cornerback for Sam Madison.
Follow @BobGrotz