One NovaCare Way pics are priceless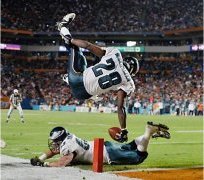 Correll Buckhalter gave it all he had
When Eagles president Joe Banner walks past the auditorium inside team headquarters he cannot help but feel angst.
Decorating the walls are examples of the most recent carnage of free agency, and painful remembrances of the good old gold standard days.
Seven of the 15 blown-up photos in the foyer outside the news conference center have former Eagles on them - Brian Dawkins, Correll Buckhalter, Sean Considine and L.J. Smith. All have signed with other teams or in the case of Smith, agreed to terms to do so.
Among the golden moments is Buckhalter reaching the ball over the goal line for a touchdown, a play immortalized by photographer Drew Hallowell.
Though the scenery is about to change in a hurry, the memories will live on.
Labels: Eagles
Follow @BobGrotz