Report: Thomas visits Jacksonville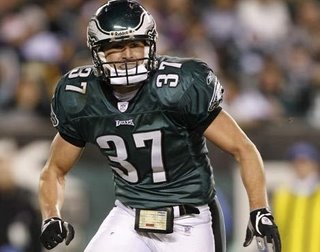 Will Thomas follow Sean Considine (above) to Jacksonville?
The Jaguars met with free agent offensive tackle Tra Thomas, according to a report in the Philadelphia Inquirer.
With Khalif Barnes making the rounds in free agency, the Jaguars have a vacancy.
With the addition of tackle Stacy Andrews and the Eagles' front office fresh off another statement in what to pay 30-something vets (i.e. Brian Dawkins), the 34-year-old Thomas has good reason to shop around.
If Thomas signs he would be reunited with former Eagles safety Sean Considine, who inked a two-year pact with the Jaguars.
Follow @BobGrotz