Give us an L ... I ... T ... O ...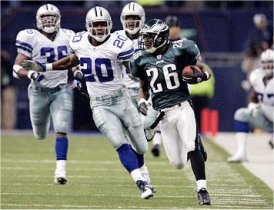 UPDATE: Lito Sheppard arrived at 6:02 p.m. Friday. Or if you prefer, 28 minutes before the team meeting.
Pictured awaiting the arrival of Eagles cornerback Lito Sheppard (left, running away from the Cowboys) at the NovaCare Complex is this skeptical and somewhat disillusioned press corps (below).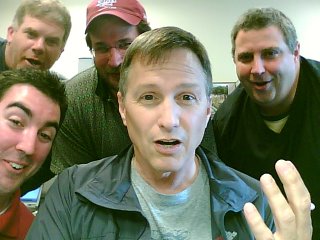 This basically is the view Sheppard will get when he's packed by reporters and asked question after question about his contract, his future and the way he feels the Eagles have treated him dating back to his injury-marred 2007 season.
Lip readers can see each of the reporters mouthing the word "Lito," which is standard before most questions.
Below is a picture of what the media room at One NovaCare Way will look like immediately after Sheppard is spotted, and hopefully interrogated. The press corps has been assured a reasonable effort will be made to make the player available.
Follow @BobGrotz