A divisonal game with the Giants? I don't think so ...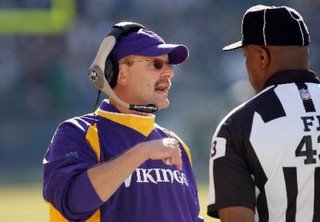 Prove me wrong, that's all I ask.
It's annoying listening to self-promoters gush over an Eagles-Giants divisional playoff pairing when the
(Brad Childress, left, telling an official that Andy Reid is 0-for-his-last-8 replay challenges.)

reality is Andy Reid and Donovan McNabb are just 3-4-1 with one quarterback benching on the road this year and they open the postseason Sunday against the Minnesota Vikings, who are 6-2 at the Metrodome.
Straight up, the Vikings aren't going to quit like the Cowboys did in their 44-6 loss Sunday to the Eagles. Head coach Brad Childress, the former Eagles assistant, isn't the quittin' type. The man has been on the hot seat all four of his seasons with the Vikings.
Yeah, Reid beat Childress, 23-16, last year at the Metrodome. But no, this isn't the same Vikings team. The Vikings (10-6) will make this a very physical game. And the last time I looked, the Eagles were banged up.
I'll be surprised if the Eagles win by more than one point this weekend - if they win at all.
Follow @BobGrotz