Feeley to McNabb: Watch out for Tatupu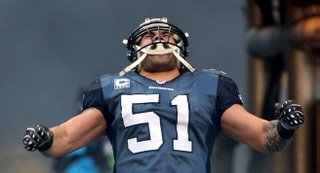 There are a lot of places Eagles quarterback A.J. Feeley would rather be this week than the film room.
Once the projector rolls it's just a matter of time before No. 51 flashes across the screen and back into his life – again and again and again.
Seattle Seahawks middle linebacker Lofa Tatupu intercepted Feeley three times last December, completing the trifecta at his four-yard line with 23 seconds left to preserve a 28-24 triumph over the Eagles at Lincoln Financial Field.
If Feeley had it to do over – and in his head, he's done so too many times to remember – there is no doubt what he would do.
"Tuck it and run," he said.
That valuable bit of information is safely stowed with Eagles starting quarterback Donovan McNabb, who has been known to lock in on a receiver or two and missed the above game with ankle and thumb injuries.
Face it, the best hope the Seahawks (2-5) have of beating the Eagles this Sunday at Qwest Field is forcing the turnovers they did last season.
The Seahawks showed signs of returning to their old form last week registering five sacks, a 75-yard interception return for a score and a 50-yard fumble return in a win over the San Francisco 49ers.

Anything head coach Mike Holmgren gets from his offense is a bonus as backup quarterback Seneca Wallace likely will start the fourth straight game in place of Matt Hasselbeck, who has back and knee issues, and the Seahawks are a couple of quarts low at the skills positions due to injuries.
The way Feeley sees it, for the Eagles to avoid turnovers they must account for Tatupu (6-0, 242), a rangy and explosive defender playing in a scheme that allows him to read the quarterback's eyes and flow to the ball almost like a safety.
Tatupu also is savvy, having used his knowledge of the West Coast offense the Seahawks use to bait Feeley into a couple of picks last year.
One of the basic West Coast slants has one receiver clearing an area for another. On that December day at the Linc, Tatupu twice made Feeley think he would cover the tight end before breaking back toward the receiver running the slant. On the game-sealing interception Tatupu bounced back in front of wide receiver Reggie Brown.
Follow @BobGrotz