Can Eagles win a Super Bowl with Banner?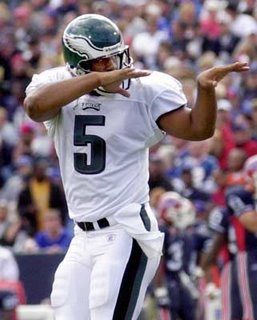 What took Joe Banner so long to say head coach Andy Reid and quarterback Donovan McNabb would be back next season, as he did Tuesday on Comcast SportsNet?
Why didn't he just say so after the Eagles were eliminated from the postseason by the Arizona Cardinals?

(Donovan wants a meeting with you, Joe)
Banner didn't know. And trust me, it took him more than a week before he felt comfortable putting out the spin, "We can win a championship with those people and they will be back." Those people, by the way, are McNabb and Reid.
Despite practicing his lines in front of the mirror and on www.Philadelphiaeagles.com Banner didn't say the Eagles "can win a Super Bowl " with Reid and McNabb. Freudian slip? Calculated? Typical Eagles expectations? The Eagles have won championships with "those people." But they're NFC East championships, the NFC championship, etc ...
Moreover, Banner is concerned enough about his upcoming face-to-face meeting with McNabb he's spent the week stroking the QB's ego with "we're lucky to have Donovan" plaudits.
Why is it necessary?
If McNabb asks the Eagles to prove they're lucky to have him, say with a contract extension, Banner's follow-up spin would paint McNabb as too demanding, the bad guy or whatever you prefer to call it.
Banner could say, "We always said we were lucky to have Donovan and that we wanted him back and that we think we can win a championship with him.
"But there are 52 other players on the payroll and we have to do what's in the best interests of the Philadelphia Eagles."
Trust me, there's a lot of bridges to be rebuilt before the Eagles can think about reaching the playoffs next season.
This is anything but one of those "and they lived happily ever after" situations.
Follow @BobGrotz