Reggie Brown has fallen off the depth chart
Andy Reid and coordinator Marty Mornhinweg would neve admit it but Reggie Brown, the wide receiver they could always count on, is sixth on a depth chart topped by DeSean Jackson, Kevin Curtis, Hank Baskett, Jason Avant and Greg Lewis.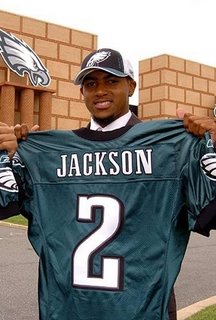 DeSean Jackson is No. 2 in the program but No. 1 on the depth chart
Brown barely played in the win over the Steelers. He had just one pass thrown his way and didn't make a great effort to catch it although it was one of the wilder ones launched by Donovan McNabb after he took a Kareem Abdul-Jabbar like kick in the chest from one of three Steelers who sacked him.

The only praise Reid could find for his performance was that the player came out of it healthy. That's about as insignificant as you can get.

Follow @BobGrotz