Living Jim Johnson memorial at camp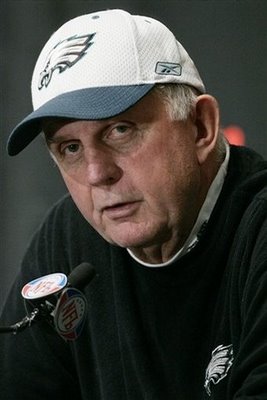 Freshly painted on the edge of the Lehigh University practice field this morning is "JJ," a tribute to Jim Johnson, the late Eagles' defensive coordinator.
Enclosed in a circle on a black background, the white letters are the first of what will be several tributes to Johnson, who passed away Tuesday afternoon after a lengthy battle with melanoma.
A living memorial was set up in the tent area that Eagles fans can add to on their visit. The next practices open to the public are at 8:15 a.m. and 3:15 p.m. Friday.
Fans at the Eagles' Flight Night Sunday night at Lincoln Financial Field can watch video highlights of Johnson and some of his defenses before reflecting on his loss during a moment of silence.
Other memorials are pending. Privately the Eagles intend to play the season with "JJ" lettered on their helmets.
Funeral services likely will be private for Johnson, survived by his wife Vicky, two sons and four grandchildren.
Follow @BobGrotz