McNabb: "Phils in 6"
Donovan McNabb likes the Phillies, especially his bud Jimmy Rollins, the shortstop big on predictions.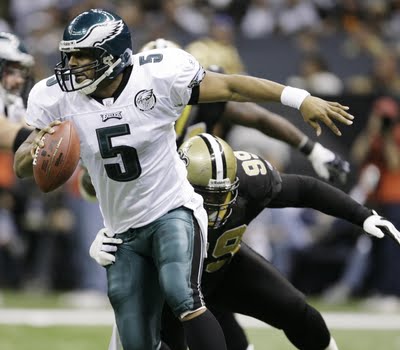 McNabb stayed up late to watch the Phils 3-1 loss Thursday night to the New York Yankees evening the World Series at one game apiece. Oh, and he thinks Phils manager Charlie Manuel did the right thing taking out starter Pedro Martinez in the seventh inning.
McNabb (pictured in the grasp of Hollis Thomas) almost didn't have to be prodded to offer his prediction.
"Phillies in six," he said. "There will be a parade. The Yankees are going to have problems with their pitching. Look for (Ryan) Howard to hit a home run. Look for Jayson Werth and (Raul) Ibanez to homer. Look for Howard to hit his to right field and the other guys left field. I just have a feeling about it."
Rollins predicted Phils in five, and possibly six.
Follow @BobGrotz